Waverider Communications
Wireless Communications Equipment
We deliver Worldwide.
AirMax5N
150Mbps 5GHz Long Range 20km Wireless Bridge
Price: AU$250 Export, AU$275 inc. GST per unit
Delivery: $14+gst Melbourne Metro, $18+gst Australia Wide, AU$50 World Wide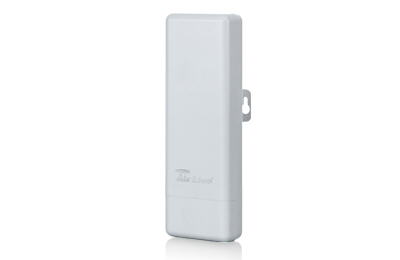 <- - - - - / Up to 20km / - - - - ->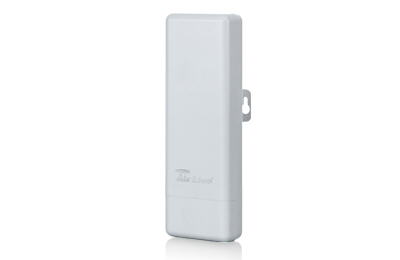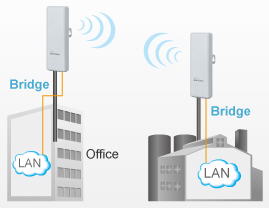 Office<- - - - / Up to 20km / - - - ->Factory
Bridge Example Application


AirMax5N is the new generation of all-in-one wireless 5GHz CPE built to the highest standard. It greatly surpasses the competition in value, feature, performance, and reliability. If you are looking for a cost effectively way to build your weatherproof wireless outdoor network that can withstand the test of time. Look no further, AirMax5N is the first choice.

Key Features and Product Specifications:
- 802.11a/n 150Mbps Weatherproof Wireless Outdoor CPE
- Supports 802.11a and 802.11n. Runs from 5.1GHz to 5.8GHz Spectrum
- High performance 150Mbps radio transmits over longer distances than other similar sounding products
- Intelligent circuit board design allows AirMax5N to perform at the greatest optimized level
- Integrated 16dBi 5GHz antenna with horizontal, vertical, or diversity polarization can reach long distances
- Field tested at 20km distance with built-in antenna under ideal conditions
- Provision for optional external antenna for super long range if required
- Configuration modes for Transparent Wireless Bridge, Access Point (AP), Repeater, WDS, WDS+AP, Client Infrastructure, WISP Router, AP Router modes
- Original driver based OS with built in Watchdog Timer for Auto Reboot gives you both greater reliability and more innovative features
- Support L2TP, IPSec, and PPTP VPN Pass through
- 2 x 10/100 Ethernet Ports with One Passive PoE Port
- Advance Passive PoE (Accepts 12 to 18 volts)
- Reset Button on PoE Injector
- Size 220mmH x 80mmW x 35mmD
- INCLUDES Pole Mounting Kit
- INCLUDES PoE Adapter Kit with power supply and power injector!
- INCLUDES Built in 16dBi Antenna!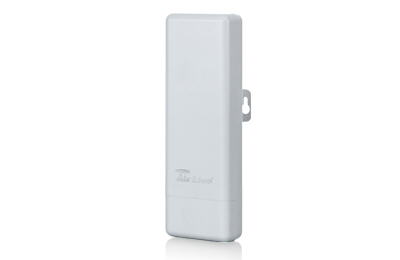 The AirMax5N comes with just about everything you need to build 5GHz outdoor connection instantly. The CPE enclosure is built with high grade anti-UV materials for protection from prolonged sunshine and rain. It includes an integrated 16dBi 5GHz antenna with horizontal, vertical, or diversity polarization. The built-in advanced passive Power over Ethernet is for the deployment of the PoE network environment.
AirMax5N can reach long distances using the built-in antenna. Depending on the terrain If you need more or maximum distance, simply connect a hi-gain external antenna to the R-SMA port. It really is that versatile and simple.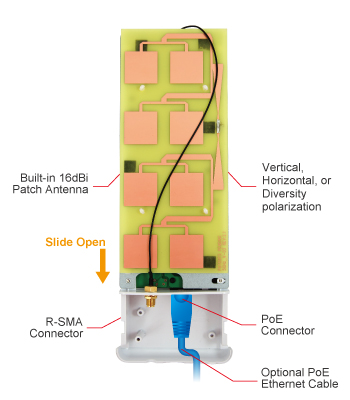 Several Modes of Operation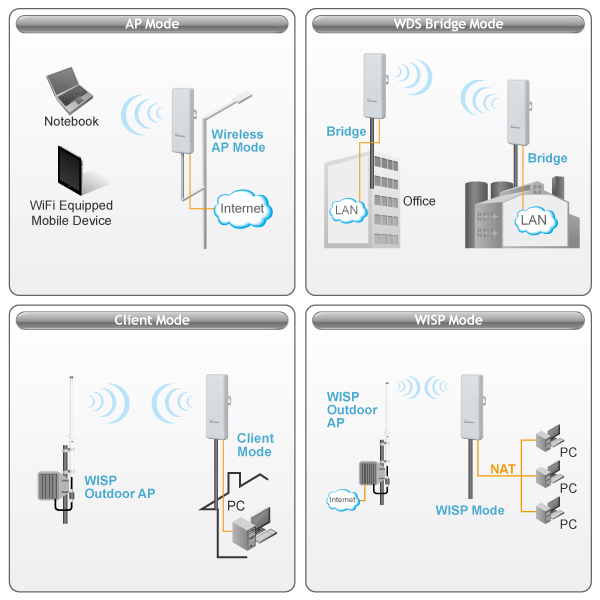 POWER - Small it may be, AirMax5N is all about power and performance. The core of AirMax5N comprises of a max. 22dBm Output Power 802.11a/n 150Mbps radio that is capable to run in both 802.11a or 802.11n modes. Together with the built-in 16dBi antenna and a highly efficient firmware, AirMax5N can normally easily transmit data over a distance of 3km and beyond depending on terrain. Field tested under ideal conditions to 20km Max.

DESIGN - Using an Advanced and Intelligent circuit board design, AirMax5N is able to bring the best out of its components, allowing them to run at optimized level and reducing power loss, thus giving you unparallel performance against other devices with the same configurations.

ORIGINAL - AirMax5N OS is designed completely from the ground up. Unlike others who built their firmware on top of generic firmware, AirMax5N OS is based original drivers. Together with our own innovative functions, AirMax5N OS provides you with the maximum stability and advanced functions that is not available elsewhere.

QUICK - Designed to work right out of the box, AirMax5N provides you with everything you need, such as durable and weatherproof housing, mounting system, back panel LED indicators and PoE. You will be able to AirMax5N up and running in no time.

Optional Tilt Mount Kit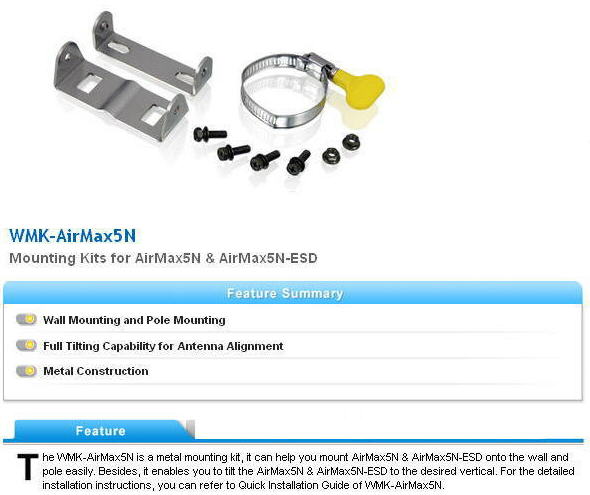 Accessories
Note: All prices exlude GST

| | |
| --- | --- |
| - Internal Long Distance Antenna | $ Included |
| - Optional Tilting Mounting Bracket (per unit) | $30+gst |
| - Preconfiguration of Bridge pair (ready to plug-and-go) if required (per unit) | $120+gst |
| - External Long Range High Gain Antenna (per unit) | $220+gst |
| - 1m RF Adapter Leads for High Gain Antenna to AirMax unit (per unit) | $98+gst |
---
Waverider Communications ships Worldwide. Reseller enquiries are welcome.
Waverider
- Worldwide Distributor -
184 Napier Street, South Melbourne, 3205, Victoria, AUSTRALIA
T: 61-3-96998844, F: 61-3-96905331
For Information:
>> Email Enquiry <<
---